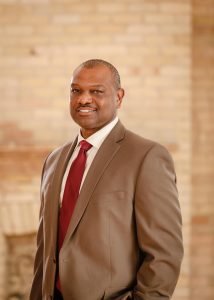 Board Member
Darryl grew up in Muskegon Heights and is a proud graduate from Muskegon Heights Public Schools. As such, he has a vested interest in the success of the Muskegon Family Care (MFC).
"The mission put forth by the organization's leadership and deftly executed by staff to positively affect the health and well-being of our patients and the community in general is something special. I am proud to be a part of Muskegon Family Care and the direction it's taking to improve the health of patients in the communities we serve".
He is a past Director of Talent Initiatives and Interim President for Muskegon Area First, the county-wide economic development agency. He has served on several community boards and advisory committees including the Pathfinders of Muskegon Heights, the Muskegon Heights Public School Academy, and West Michigan Works! Workforce Development
When not working, Darryl enjoys spending time with his family, reading, being physically active, and volunteering.
Return to Board of Directors