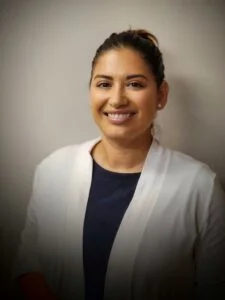 Christina
Diaz-Flores
MA, LPC
Therapist
Spring Arbor University, Baker College

Christina Diaz-Flores MA, LPC is a graduate of Spring Arbor University, where she received a Master's Degree of Arts and Counseling. She earned her Bachelors of Human Service degree from Baker College.

Christina's work experience includes providing services to adults, adolescents, and children. She has worked as a counselor to adolescents and children in a school based center and clinical setting for over 15 years.  Christina has extensive counseling/case management experience in a number of fields that focus on ADHD, depression, anxiety, parenting, anger management, self-esteem, special education and family services.

Christina is bilingual, fluent in Spanish offering culturally competent services to Latinos in both English and Spanish. 

Christina is a wife and mother of 2 young children, two dogs and two cats. She enjoys spending time with her family, reading, watching movies and traveling.
Return to Behavioral Health Staff